Massive Traffic Light Causes Grief in Wheeling
New Stop Sign in Cadiz is Only a Suggestion
Wellsburg-Brilliant Photon Beam Bridge to Open in 2177
WELLSBURG - Ohio Vallians have been whining about not having a bridge between Wellsburg, W.Va. and Brilliant, Ohio for nearly 30 years, and it finally seems that their pleas are being answered. Officials from both states agreed on Monday to begin construction on the bridge in about 150 years.
-READ MORE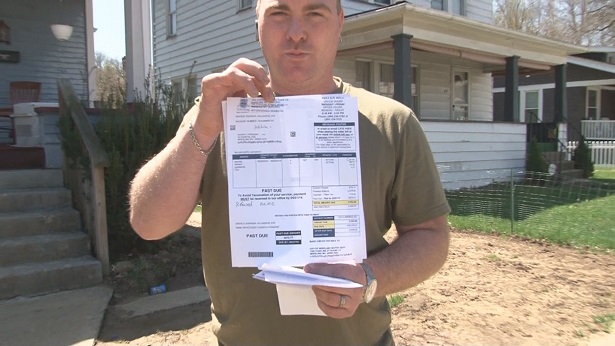 Man Receives Dasani in Water Line
WHEELING - A mistake at the Wheeling Water Department has left one local man with an astronomical water bill. Wheeling officials noticed that their drinking water started to taste a little "funky" earlier this month, and finally realized that they had been drinking the water from the city's water treatment plant that was meant for disposal.
-READ MORE
Local Woman Sets DUI Record
OHIO COUNTY, W. Va - Police say that the Ohio Valley has a new heroine this morning after 45-year-old Sharon Arnett broke the world record for drunken driving. Arnett apparently had a blood-alcohol content three times higher than Anakin Skywalker's midi-chlorian count.
-READ MORE
Ohio Valley is World's Largest 'Friendzone'
PITTSBURGH - Call it bad luck, blame it on the economy or whatever you want. But admit it. Every married couple you know is getting a divorce. All of your single friends are downtrodden by Cupid himself, and you don't believe that there are other fish in the Ohio River. Luckily for you and your anti-depressant bill, really, really smart people at Carnegie Mellon University in Pittsburgh have figured out why.
-READ MORE
UFOs Possibly Seen in Steubenville
STEUBENVILLE - The Steubenville Police Department released a statement to reporters that is has been flooded with frantic callers around town claiming to see spaceships in the skies. Stewart Dawes of Follansbee sent the image to the right to several media outlets. He claims that the odd figure in the center of the picture is possibly a UFO.
-READ MORE
WTRF Apologizes for False Prediction of Apocalypse
WHEELING - StormTracker 7's Dr. Dave Walker apologized on-air to the Ohio Valley after mistakenly predicting the extinction of the human race.
-
READ MORE
Superload Just Wants to be Left Alone
MARSHALL COUNTY, W.Va - A 120 foot long, 510 thousand pound de-ethanizer tower says that she's tired of paparazzi following her around everywhere she goes.
-
READ MORE
DHS Warns Riesbeck's Not to Run Out of Paczki
WINTERSVILLE - Citing reasons such as public safety and national interests, US Secretary of Homeland Security Jeh Johnson sent a memo warning Riesbeck's Food Market in Wintersville to not run out of paczki.
-
READ MORE
Weirton Little League Team Selling Malaysian Plane
WEIRTON - Temperatures are on the rise, and that means that Little League season is just around the corner. However, times have been tough in the Ohio Valley, and funding a youth baseball team is not easy. Chris Gillette, manager of the Weirton Marlins, has come up with a plan that will raise more than enough money to make it through the season.
-
READ MORE
Man Leads Police on Foot Chase Across Four States
STEUBENVILLE
– Police say that 20-year-old Donnell Turner led them on a 7 week, 690 mile long chase across four states on foot. Turner reportedly fled after a police officer attempted to pull him over. Officer Shideki Matsumo said that when he approached the vehicle, Turner got out and fled.
-
READ MORE
Abdalla Advances in American Idol
HOLLYWOOD - Sheriff Fred Abdalla turned in yet
another stunning performance in this season of
American Idol
. This time, the Jefferson County Sheriff sung his rendition of Celine Dion's 1997 hit single 'My Heart Will Go On' from the
Titanic
soundtrack. The performance nearly left the judges speechless.
-
READ MORE
Bieber Escapes Valley
WHEELING/MINGO JUNCTION TOO - Just one week into Justin Bieber's sentence to Mingo Junction, reports say that Bieber has won the Powerball and escaped the Ohio Valley.
-
READ MORE
Pull-It Surprise Nominees Announced
WINTERSVILLE - The nominees for the 2014 Pull-It Surprise were announced at a banquet at St. Florian Hall last night. This will be the first year that the prize is given out, and the winners shall be determined by a senior panel of Ohio Valley News staff writers.
-
READ MORE
Prostitution Legal in Wheeling For Valentine's Day
WHEELING - Mayor Andy McKenzie says that he wants everybody in Wheeling to be able to enjoy Valentine's Day equally. On February 14, prostitution will be legal for anyone within city limits.
-
READ MORE
Wheeling Intelligencer Published in Wingdings
WHEELING - The launch of the Intelligencer's new format (right) was plagued by a single oversight: it was published in Wingdings. Apparently, nobody in the newsroom realized that the mistake even happened, and thousands of readers across the Ohio Valley were delivered a newspaper that they could not understand.
-
READ MORE
Provident Man Wins 35,000 Pounds of Milk
PROVIDENT - 55-year-old John Doe was shocked to hear that he was the lucky winner of United Dairy's Winter Harvest Sweepstakes. The prize was 35,000 pounds of milk delivered right through his front door.
-
READ MORE
Exiled Justin Bieber Lands Job With ArcelorMittal Steel
MINGO JUNCTION - In response to an official White House petition that has received over 240,000 signatures, President Obama announced that he will have the Department of Homeland Security relocate Justin Bieber to Mingo Junction, Ohio.
-
READ MORE
Disheveled Adam Del Rosso Discovered in Hut By Ohio River
STEUBENVILLE - It's a question that has been on the minds of Ohio Valley residents for years. What does WTOV-9's Adam Del Rosso do during the weekdays? The meteorologist comes in to report the weather on the weekends, then mysteriously disappears for five days in a row. Many have speculated that he doesn't exist at all, noting that he has never actually been seen in public aside from reporting for News 9.
-
READ MORE
Ohio Switches to Metric System to Improve Cars' m/pg Ratings
COLUMBUS - In an unprecedented move yesterday, The Ohio Department of Transportation (ODOT) announced that it will now use the metric system to officially measure distances. Ohio becomes the first state in the country to join the majority of the world. ODOT Director Jerry Wray says that he decided to make the switch in order to make Ohio a better place to live.
-
READ MORE
Death Metal Band Visits Sick Children
WHEELING - Playing music had been a lifelong dream of Allison Richland, a 10-year old from Warwood. Unfortunately, she lost the use of her most of her motor functions after a car accident left her paralyzed. Nine-year old Mitchell Reese of Wheeling Island had always wanted to attend a concert, but a battle with leukemia is forcing him to live in a hospital room.
-
READ MORE
Steubenville Bombs Itself
STEUBENVILLE - Mayor Domenick Mucci told reporters that the nuclear bomb that went off earlier today was detonated by the fire department as part of the city's "Scare the 'S' out of Steubenville Week". The bomb exploded inside Belleview Park at noon, sending the entire town into a frenzy.
-
READ MORE
Loop-the-Loop Added to US 22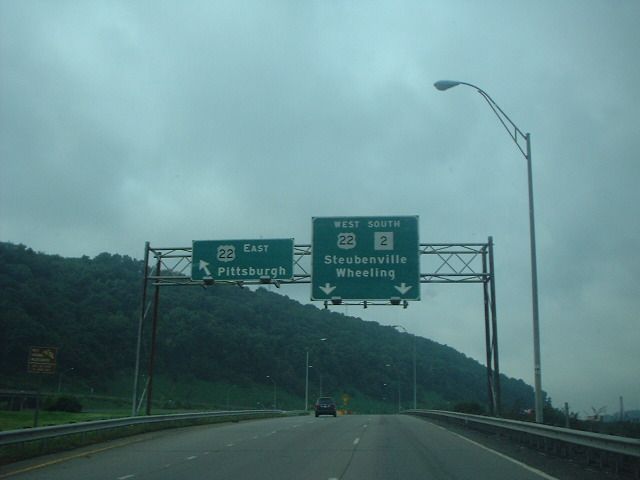 WEIRTON - In an effort to make commutes to Pittsburgh more amusing, the US Department of Transportation has said that it will begin remodeling US Rt. 22 between Weirton and Pittsburgh. The highway will now feature a variety of twists and turns resembling roller coasters.
-
READ MORE
Local Reporter Releases Autobiography
STEUBENVILLE - Esther McCoy has covered breaking news in the Ohio Valley for nearly 40 years now, and she is ready to share her story. She recently signed a book deal with HarperCollins, which will be publishing her autobiography
Gossip Gal: 40 Years of the Ohio Valley.
In it, she discusses the challenges she faced over the course of her career, some of the most interesting things that have ever happened in the valley, and her favorite cooking recipes.
-
READ MORE
Axl Rose Claims Hit Song is About Bloomingdale
NEW YORK CITY - In a recent interview with
Rolling Stone
magazine, rock star Axl Rose claimed that his 1988 hit song
Paradise City
is actually about Bloomingdale, Ohio. Rose told
Rolling Stone
writer Andy Greene that he and Slash were big fans of the small town along U.S. Route 22.
-
READ MORE
Channel 7 Goes Animated
WHEELING - Channel 7 has lived in the shadow of the more colorful, raunchier News 9 for many years, but station manager George Green vows to change that. On the station's 6 o'clock program, anchor Nate Fluharty announced Green's plan to make the switch to animated news.
-
READ MORE
Jeff Oechslein Wins 'Jeff Oechslein Look-Alike Contest'
STEUBENVILLE - Jeff Oechslein won a record tenth straight 'Jeff Oechslein Look-Alike Contest' yesterday, making him the winner every year since the contest began in 2003. The meteorologist from WTOV 9 said that he never anticipated this kind of success.
-
READ MORE
Baby Gives Birthday Presents to Charity
ST. CLAIRSVILLE - Gordon Hewitt and his wife Lynda sure were surprised when they heard their son David say that he would like to give up his birthday presents, especially because the presents were for his very first birthday.
-
READ MORE
WTOV-9 Wins Pulitzer For Coyote Story
STEUBENVILLE - News 9 has been nominated for the Pulitzer Prize once again for 'Lamest News Coverage'. The announcement came at about 4:00 ET for their coverage of a coyote running around in Steubenville (right).
-
READ MORE
Archaeologists Search Near Route 7
BRILLIANT - State Route 7 has been reduced to one lane near Brilliant since March of 2011 due to excavation crews working on the hillside. At a recent meeting with the Jefferson County Board of Trustees, researchers from the Smithsonian Institution told frustrated motorists that they would just have to be patient.
-
READ MORE
Local Gang Hosts Bake Sale to Fund Turf War
STEUBENVILLE - Notorious Steubenville gang the Chicago Boys will be taking to the streets today to raise money for their upcoming turf war over Historic North Fourth Street. The neighborhood is currently occupied by two different rival gangs and the Chicago Boys hope to change that by next weekend.
-
READ MORE
Four White People Rob Convenient Food Mart
WHEELING - Authorities in Wheeling say that a group of white people were arrested earlier today when they held the cashier of a Convenient Food Mart at gunpoint and demanded money from the register and stole a variety of groceries.
-
READ MORE
Salvation Army Gives Away Power Line Shoes
WHEELING - With a new school year underway and winter fast approaching, new shoes are a hot commodity. Sadly, many local families are too poor to accommodate new shoes in their budget. In fact, new shoes even drove at least seven into bankruptcy. However, The Salvation Army in Wheeling has come up with a plan to provide shoes to hundreds of kids this fall.
-
READ MORE
Anti-Jamboree Statuses Exceed Attendance
FACEBOOK - Jamboree in the Hills wrapped up earlier this week, which means that the Valley will slip back into a depression once again.
-
READ MORE
Local Children Transformed Into Legos
BELLAIRE - The Plastic Brick Museum in Bellaire has been a mystery to many for ages. Nearly thirty years ago, the museum fired its entire staff and closed its gates forever. Ever since, nobody has been seen going in, or coming out.
-
READ MORE
Wintersville Police Get Into Shootout With Steubenville Police
WINTERSVILLE - A massive firefight erupted along State Route 43 on the border of Wintersville and Steubenville at around 5:30 in the evening and continued until nearly midnight. On one side was Wintersville Police Department. On the other, the Steubenville Police Department.
-
READ MORE
Snowbird Arrested For Child Molestation
STEUBENVILLE - "Ladies and gentlemen, we got him." These words will forever echo in the halls of the Jefferson County Jail. They were spoken by none other than Sheriff Fred Abdalla, after his department brought in the highest profile child molestation suspect of our time.
-
READ MORE
Bigfoot Suspect In Bank Robbery
MARTINS FERRY - As the dust settles after this morning's robbery of the PNC Bank in Martins Ferry, new evidence begins to surface every minute. Police say that a witness (whose identity remains anonymous) gave her description to investigators, and the sketch
reveals Bigfoot to be the new main suspect.
-
READ MORE
Clogged Sink Floods Wheeling
WHEELING - Despite being months away from flood season, the Ohio River rose up and swallowed Wheeling Island early yesterday morning in what is expected to be the most devastating flood that the region has ever seen.
-
READ MORE
Smithfield Buys 1950s Style Police Car
SMITHFIELD - The Smithfield Police Department showed off its brand new police car to reporters earlier this afternoon. The car, a 1955 Chevrolet Bel-Air, is set to take to the streets of the 1 square mile town starting next week while the police department waits for it to be shipped from India.
-
READ MORE
WTOV-9 Renewed For Five More Seasons
STEUBENVILLE - Viewers of the valley's own daytime drama won't have to speculate what happens after last season's cliffhanger ending for much longer. NBC revealed today that WTOV 9, also known as 'News 9', has been renewed for 5 more seasons.
-
READ MORE
Leaky BA Busted For Running Meth Labs
STEUBENVILLE - The FBI revealed in a press conference today that they have finally brought down Leaky BA, the world's largest system of meth labs. The raid was carried out FBI lead investigator Todd Harrison, simultaneously uncovering 13,493 meth labs in various homes across the valley.
-
READ MORE
The Hills Have Eyes 3 Will Be Set In Bellaire
BELLAIRE - With the likes of
The Silence of the Lambs,
tv sitcom
The Fresh Prince of Bellaire
and last year's
Unstoppable
, Bellaire is emerging as a new hot spot for Hollywood films. Mayor
Vince DiFabrizio told Ohio Valley News today that yet another movie is set to begin filming in the town this summer.
-
READ MORE
Skyscraper Opens In Brilliant
BRILLIANT - Residents of Brilliant, Ohio welcomed a new building to the town today. The Grand Opening of Burj Brilliant drew in hundreds of people from across the valley.
-
READ MORE